OCTOBER 2017–REPORT FROM PORT-OF-PRINCE, HAITI, FROM BROTHER JEANTYRARD ELMERA
This report covers events of the Delmas 28 Church of Christ, during the past year, October 2016 through October 2017
Response to the Gospel
We have conducted 11 series of gospel meetings around the country and God has welcomed 331 people into His church through baptism. We are blessed with a dynamic media ministry consisting of two telecasts on TV and two radio broadcasts.
Canal 11- Sunday 1-2 PM
Canal 60 –Sunday 8-9 PM Wed. 8-9 PM
Radio – Megastar Sunday 7-8 AM
Radio – Megastar Sunday 6-7 PM
These media programs have been effective in leading several to Christ. We have gotten many good letters as well of questions from listeners across Haiti. Some of our television programs are presented live in the church buildings around the country and people can witness the worship, communion, and baptism services of the Delmas 28 congregation.
Happy Celebrations
Recently we celebrated the birthday of our oldest gospel preacher here in Haiti, Brother Kristane Ostane, who was 100 years old and is still preaching the gospel.  We also celebrated with Ulrick and Glacelus Moise who celebrated this year their 52nd anniversary of marriage. They are both very active in the Delmas church organizing Bible studies and ministry activities.
Delmas 28 Congregation Refurbishing
The Delmas church building is used for several functions in our brotherhood. We thank God for a 15-kw generator we acquired recently. We are trying to rewire our electric facilities to accommodate this generator so when the electricity goes off here in Haiti which is quite often we have a backup system ready to work.  We are also trying to secure funds to buy more furniture for the church and school that meets in our building.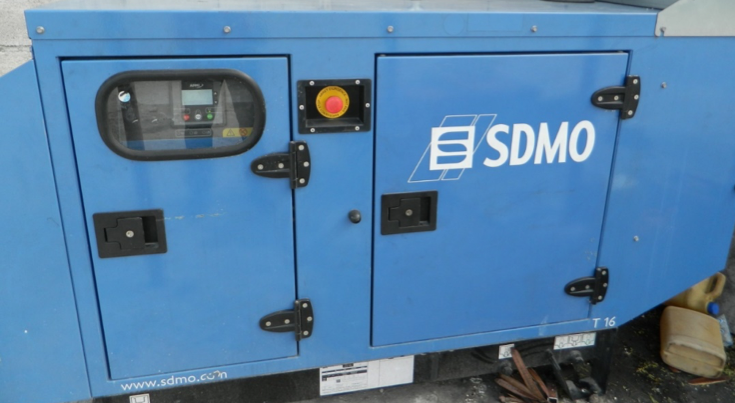 The new generator
Doors of Opportunity
Hurricane Matthew completely destroyed the Chambellan Chuch of Christ and the Bible School in the western peninsula of Haiti.  A number of our members joined with members of churches of Christ in the States and helped rebuild the church in Chambellan.  The new building was opened in June of this year with 1100 people attending the celebration service.  On that day we rejoiced as nine people w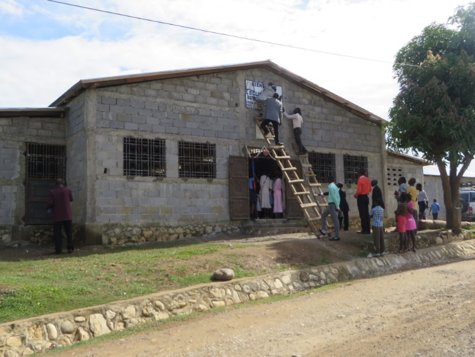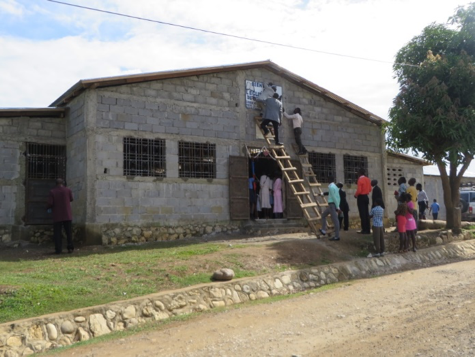 ere baptized and we conducted nine weddings. The mayor of Chambellan came personally to congratulate the new church for its love in action. Since that day in June, people in the community continue to respond to the gospel and are being added to the church. The church there desperately needs benches and school material.  The community of Chambellan will never be the same.  God took a tragic situation and through the love of hundreds of Christian brought about the salvation of many souls.  The church is reaching out to people now that it could never have reached before.
The new Chambellan building
Graduation of the School of Preaching December 17, 2017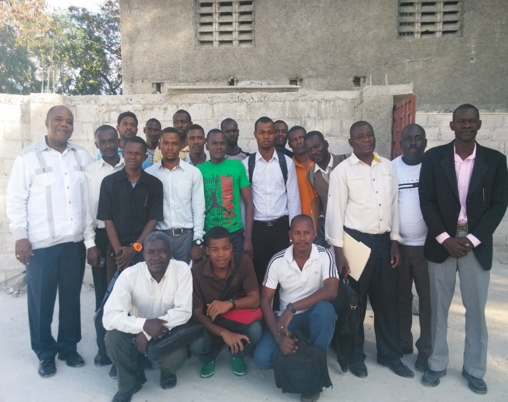 Our school of preaching and theology is the only school affiliated with the Churches of Christ which is recognized by the state of Haiti to train a new generation of church workers and preachers.  Thirty new preachers will graduate December 17, 2017, after a three-year program of study.  People will come from all over Haiti for this event.
I want to thank all of you for your patience, support, and prayers for this ministry.
May the good Lord continue to bless you.
Jeantyrard Elmera
Minister and Servant